Animal Design Baby Hooded Towels $number Cotton Soft Touch Personalised Gifts
Tina 2017-09-27 14:44:15
Animal Design Baby Hooded Towels $number Cotton Soft Touch Personalised Gifts
Animal Design Baby Hooded Towels Applications
·this Hooded Bath Towel Wrap from Just Bath by Just Born are ideal for wrapping your baby in warmth and coziness when Bath time. With its generous size, cozy hood, and cute print and appliques, it ' s made of thirsty, super-soft cotton terry.
·the soft material feels-skin, and he ' ll-love the little Whale is on the hood. A set, mix and match with the other animals and colors so you ' ve got a few.
·adorable Hooded Towel by Just Born turns bathtime to fun time for your little one. Soft Cotton Terry Towel features a cute hood.

Animal Design Baby Hooded towels competitive advantages
1.chaseawaythoseafter-bathchillswithoursofthoodedtowels. Designed to absorb the wetness and keep the baby ' s little body and head cozy warm. The so-called in home, over at the Grandma ' s or when traveling.
2. We have 8 production lines. The biggest one in South.
3.appointedprofessionaltowelsupplierfordisney,johnson,coca-cola,wal-martformorethan10years.
4. The development and the execution team.
5.7*24hoursservice,wetreatclientsasfriends. We have a dream to make a warmer home for you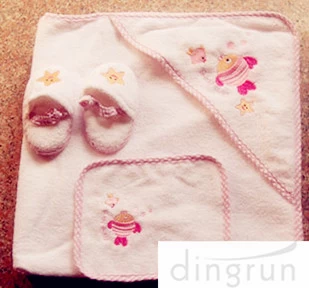 The above news is reproduced by China towel supplier Shenzhen City Dingrun Light textile Import and Export Corp. LTD, A Company Specialized in producing
Baby Diapers
, Baby bibs,
Blankets
, Bath towels, tea towels,
Compressed towels
, microfiber towels etc.