Chinese artist builds 'biscuit city' in Nepal
Lisa 2017-03-28 17:06:13
Buildings and houses made of food do not only appear in fairy tales or on movie screens, but also in real life.
Recently, Song Dong, a Chinese artist, brought his city made of chocolate, biscuits and jello to an exhibition entitled "City" in Katmandu, Nepal.
According to the artist, it took him five days to finish the biscuit city. The round-shaped city was divided into four sectors. Apart from modern buildings, the small city includes many Nepal-style architectures, such as a mini version of Bodhnath Stupa.
However, it will only take one to two hours to devour the sweet architecture.
"In my mind, when the city is being eaten by people, that's the moment of the whole work's accomplishment," Song said.
When talking about the meaning behind the artwork, Song said he created it out of a natural desire and destroyed it for the same reason.
The exhibition will run through April 9. About 50 artists from Nepal, China, Japan, India and Pakistan have their works on display during the event.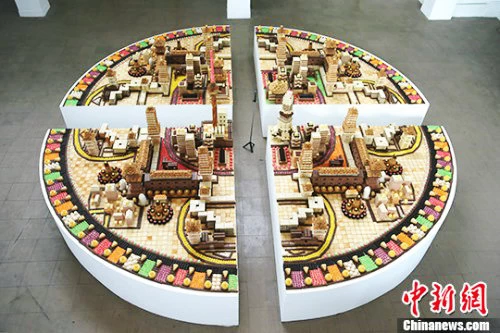 The above news was excerpted from china daily by China towel supplier Shenzhen City Dingrun Light Textile Import and Export Corp.Ltd, a company specialized in producing baby diapers, baby bibs, beach towel, blankets, bath towels, tea towels, compressed towels, microfiber towels etc.