Cui: China not looking to dominate
2020-08-06 16:28:47
China does not seek global dominance, nor does it want tensions with the United States to escalate further, Beijing's top envoy to Washington said.
"To be fair, I think over the last few decades, we have learned many things from the United States. Of course, they are still saying we have not learned from the US," Chinese Ambassador Cui Tiankai said on Tuesday at a virtual Aspen Security Forum.
"I think (something) we should never learn from the United States (is) obsession with global dominance," he said at the annual event, which concludes Thursday.
Discussions of China-US ties, which have sunk to the lowest point since the two countries forged diplomatic relations in 1979, have been featured remarkably at the three-day forum, which also had a panel discussion on their relations moderated by Joseph Nye of Harvard University on Wednesday.
Cui's remarks came nearly two weeks after a policy speech that US Secretary of State Mike Pompeo delivered at the family home of Richard Nixon — the 37th US president whose 1972 China visit ushered in a historic thaw in relations.
The secretary used what US media called "dramatic Cold War language" to blast decades of formal relations with China and accused Beijing of seeking global dominance.
"I don't think a new Cold War will serve anybody's interest, will give us any solution to the problems," said Cui, the longest-serving Chinese ambassador to the US. "Why should we allow history to repeat ... when we are faced with so many new challenges?"
Nye, the distinguished service professor emeritus of Harvard, on Wednesday cautioned that the historical metaphors regarding a new Cold War could be misleading, because unlike the rivalry with the Soviet Union, the US has a lot of trade and social contact with China.
Nye described the relationship as a cooperative rivalry, "in which you have to pay attention to both sides".
"Therefore, it's a very different type of arrangement. In addition to that, you have some issues like climate change and pandemics where we can't do anything unless we do cooperate with China," Nye said.
At Tuesday's forum, Cui said China "certainly" has no intention to pursue global dominance. "But people here in this country talk about this so often, it seemed to me that (there's) such an obsession with it," he said.
Commenting on the closure of the Chinese consulate in Houston and subsequent shutdown of a US consulate in Chengdu late last month, Cui said it was "really unfortunate" for the US side to decide to close China's first consulate in the US.
"Then you see in diplomacy the principle of reciprocity is always followed, so we'll have to respond. But we certainly don't want to have all this from the very beginning. We certainly don't want to see any escalation," he said.
Unlike Pompeo, who declared engagement with China a dismal failure, the Chinese ambassador offered a more optimistic and pragmatic perspective in observing the normalization of relations between China and the US.
He said the growth of the relationship over the decades has served the interests of both countries and the world "very well".
"It's quite clear all of us are still enjoying the positive outcome, the benefits of this close relationship, nobody can really deny this," Cui said.
Cui's comments echoed the views of Robert B. Zoellick, US deputy secretary of state and US trade representative in the early 2000s, who stated "it is flat wrong to suggest that working with China has not served US interests" in an op-ed for The Wall Street Journal on May 18.
Cui also noted that though there exist differences between the two countries in historical heritage, culture, economic development and political systems, they should not be seen as barriers for closer relations but rather as opportunities for mutual learning and cooperation.
Cui also was asked to comment on TikTok, the popular short-video sharing app which US President Donald Trump said he would shut down on Sept 15 unless Microsoft or another "very American" company purchased it.
The US side has cited national security concerns over user data, which TikTok's Chinese parent ByteDance has denied.
On Wednesday, Pompeo said at a briefing that the US wants to remove "untrusted applications" from US app stores.
Cui noted at the forum that there is "such a degree" of political intervention, government intervention into the market and discrimination against Chinese private companies.
"I think it's not fair to make such allegations without giving evidence and to accuse China of not giving American companies a level playing field, while at the same time they themselves are denying Chinese companies such a level playing field," Cui said. "This is extremely unfair."
Cui said allegations that China hacked vaccine information were also made without giving any hard evidence.
The ambassador revealed that in March, representatives of some of the American companies even came to see him. "They asked for cooperation with a Chinese counterpart to develop drugs or vaccines," he said.
The international community should really cooperate with each other to develop as soon as possible an effective vaccine, which should be shared by the entire world, Cui said.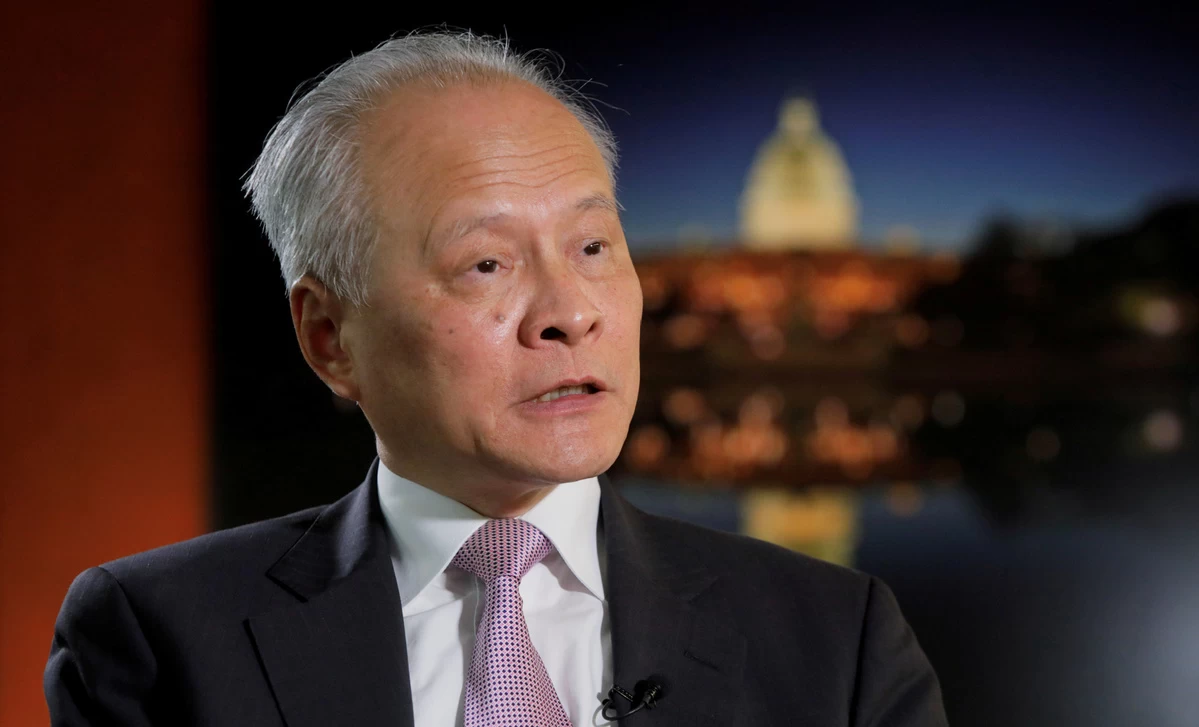 The above news was excerpted from china daily by China towel supplier Shenzhen City Dingrun Light Textile Import and Export Corp.Ltd, a company specialized in producing baby diapers, baby bibs, beach towel, blankets, bath towels, tea towels, compressed towels, microfiber towels etc.