Distinguishing features of Microfiber Hair Towels
Ekaterina Tueri www.szdingrun.com 2016-07-22 11:41:10
Even though the towels have several names, that is; microfiber hair towel, Magic hair fast drying towel, microfiber hair wrap towel, the truth is that they all have almost the same distinguishing features.
For instance, their colors range from light to a dark color theme.
For identification, the towels have a logo on. The logo is either printed, embroidered or even jacquard.
Another sensitive thing is the package. They are beautifully graced with inner and outer packaging. For inner, be prepared to encounter PVC or OPP bag; however, it is good to keep in mind that packaging can be customized. So, you can as well choose what you need the packaging to look like.
Shape and design
microfiber hair towel has been designed uniquely. Its unique shape includes adjustable hand band.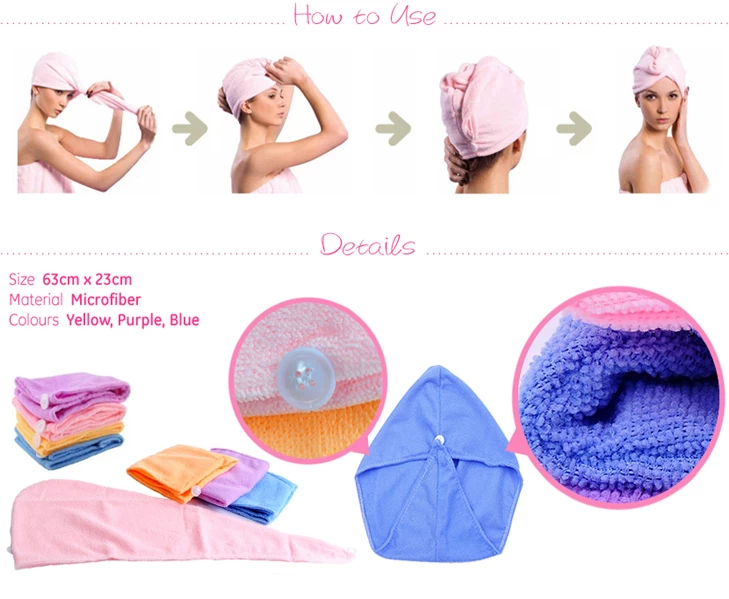 Using places 
Well, we all know towels are used for drying purposes. For this reason, the manufacturers decided to make it perfect for the pool, beach or even bath time. With that said, it means that you can travel with it to enjoy the beach experiences, or even buy it for a salon use, or just for your home use.
These towels are super absorbent and soft, to give you the drying magic you've yearning for by drying your hair almost four times the traditional towels.
Apart from only drying, your hair becomes protected from some of the dryer's harmful effect. All that you need is to check if you have that required amount to make you get one. Then join free of charge to hundreds of users worldwide; this is what technology can do people!