Kenyan Lady earned a free China trip by photoshop
Freyja 2016-03-22 16:11:07
Sevelyn Kinya aka Seve Gat,the Kenyan lady, sent the social media space Facebook into a frenzy, when she shared pictures of herself as a 'tourist' in China from her obviously photoshopped trip to China.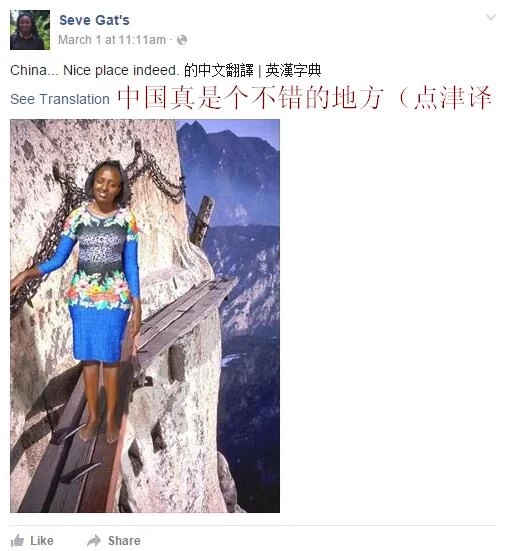 Although most people were busy in laughing at her, a young man did the otherwise who personally made her dreams a reality. 

The young man named Sam Gichuru who launched a fundraiser appeal to his Facebook account, prompting some kind-hearted Kenyans to raise the money to help Sevelyn Kinya aka Seve Gat to travel China. 

Under the help of Sam's friends and other kind people, thet were able to raise enough money for Sevelyn to enjoy her dream vacation later in the year.
Here's what Sam had to say: 

Sevelyn, we have raised enough in cash and kind to send you to China, travel, accommodation (4star), travel insurance and pocket money and probably a visit to the Kenyan embassy in Beijing to meet the Kenyan Ambassador to China (to be confirmed -praying). So, now it's all up to you." 
Excited as Sevelyn was, she took to her Facebook page to thank Sam and his friends for their kind gesture.