Christmas card note a seasonal farce: China Daily editorial
Leon Li 2019-12-26 11:00:00
Nothing is more damaging to a country's international image than human rights abuses. And any story that contains elements juicy enough to satisfy some people's wild imagination about the dark sides of an "authoritarian police state" — an opaque prison system, forced labor and human rights violations — is bound to be a big sensation that grabs international news headlines.

Which is why the latest attempt to smear China has garnered so much media coverage in countries that cannot wait to point an accusing finger at what they view as an evil empire.

Despite it lacking all the basic elements of a good news story, namely accuracy, objectivity and fairness, a report by The Sunday Times that a 6-year-old girl had found a note in a Christmas card she bought in a store of the British supermarket giant Tesco that reads "We are foreign prisoners in Shanghai Qingpu Prison China. Forced to work against our will" has been taken at face value.

The Chinese response has been quick. The Foreign Ministry spokesman has dismissed the whole story as "a farce" because, as he said, Shanghai's Qingpu prison "does not have this issue of foreign prisoners being forced to work". And Tesco's Chinese supplier, Zhejiang Yunguang Printing Factory, has also rejected the forced labor allegation as "completely fabricated". Judgment has already been passed even before a trial starts. Tesco immediately suspended the Chinese supplier before launching an investigation, even though its spokesperson said the supplier was independently audited as recently as last month and no evidence was found to suggest they had broken its rule banning the use of prison labor.

Anyone with the basic ability to reason and judge can tell how shaky the allegations are. If just a few lines jotted on a Christmas card are effective to unveil a big secrecy about foreigners behind the bars of Chinese prisons, then all those foreign consulates stationed in China must be failing in their duties. Aren't they supposed to ensure convicted citizens of their home countries get fair treatment and are afforded the rights guaranteed under Chinese law where forced labor is forbidden? Or does that mean all the international treaties China has signed with foreign countries on judicial assistance are being trashed by law-defying Chinese officials without even being noticed by their foreign counterparts?

Given that the note was directed to Peter Humphrey, the writer of The Sunday Times story, a big question mark hangs over the neutrality of the story. The Briton, a former journalist and corporate fraud investigator, served two years for trafficking personal data in the same prison as mentioned in the card.

But that question mark has been readily ignored by those with an axe to grind against China.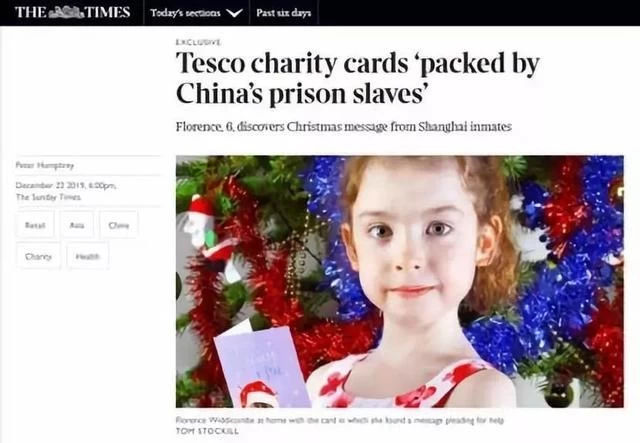 The above news was excerpted from china daily by China towel supplier Shenzhen City Dingrun Light Textile Import and Export Corp.Ltd, a company specialized in producing baby diapers, baby bibs, beach towel, blankets, bath towels, tea towels, compressed towels, microfiber towels etc.